Complete List of Cat Sitter Rates for Philadelphia, PA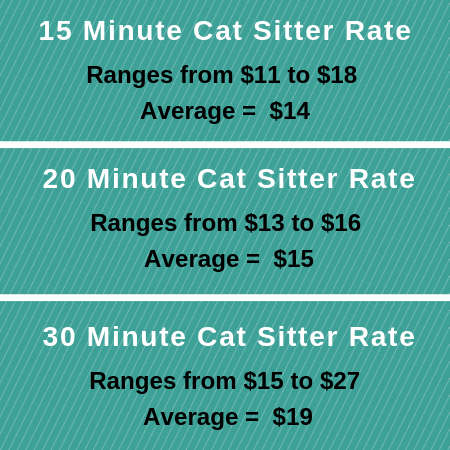 Below is a comprehensive list of cat sitter rates for companies for companies in Philadelphia, PA. Most have a standard cat sitter rate, though some have higher rates for different reasons. I link to their service area page if they have one. Otherwise, the link goes to their rates page.
The table lists 38 companies that have websites and that list their cat sitter rates If you can't find a company in your area, there are cat sitters that do not have websites. Most of the time they will have Facebook business listings. You should also try sites that list local businesses like Yelp, Merchant Circle, Google Business listings, etc.
I used a dash ( – ) in the table for two reasons. The first obvious one is if a company does not have a cat sitter rate for a particular visit time. In that case, the dash would be under both the minimum and maximum columns. I also used a dash under the "max" column if they just have a single rate for the visit time. I did not want to clutter the table with repeating numbers. Take a look at my rates under Fairmount Pet Service. My 15 & 20-minute visits are a flat $12 and $15 respectively, but my 30-minute visit ranges from $$18 to $21.
Cat Sitter Max & Min Rates and Additional Fees
Table "Min" values: This is the minimum or standard rate for each company. It may also be a discounted rate for a certain amount of visits per week.
Table "Max" values: This is a higher rate that usually includes fees for night or weekend visits or visits during "off-peak" times. Or the higher rate may be if you do not meet the minimum # of visits per week for the discounted rate.
Additional fees: Part of the "max" number are surcharges for nights and weekends. Also common are charges or fees for more than one cat, off-peak visit times and administering medicine. If you have more than one cat, the extra fee that some companies have is for 2 or more cats. But most either do not charge for additional cats or have a surcharge for more than 3 cats.
Service Areas
Here are some of the service areas that I found for each site. If you see a "+" sign and a number, then that is the number of additional surrounding neighborhoods that the company services. If you know you live close to the service area listed, then they may also service your area. Here is a zip code map for Philadelphia if you are new to the city.
Center City: Center City Pets, Fetch Pet Care
Fairmount: Fairmount Pet Service. Fairmount +1: The Pet Nanny. Fairmount +2: Pet Posse, Philly Bow Wow
Fishtown: Mary Pawpins, Pawty Time
Germantown: Just 4 Paws
Manayunk: Manayunk Pooch Schoochers. Manayunk +2: City of Paws
NE Philly: NE Phila Pet Sitting
Northern Liberties +1: Four Paws Dog Walking. Northern Liberties +2: Bow Wow Meow
Rittenhouse: Rittenhound
South Philly +1: Bark Park
Washington Square: Litter Paw
West Philly: Fresh Prints of West Philly, P.U.P.S. West Philly +2: Super Steps
Wissahickon: Wissahickon Walkers
Zip code 19147: Pant Dog Center
Companies that service MANY neighborhoods: Happy Tails of Philly, Little Characters, Phila Pet Care Co, PhilaPets, Philly Fit Dog, Philly Puppy Love, Queenies Pets, South Paw, Spotwalk, The Cat Peeps, Top Tails, Walk it like a dog, Walk This Way, Woof n Stuff, ZDogWalkers
Unknown (I couldn't find which neighborhoods these companies service): For Paws Philly, Madeleine's Paws & Claws, MJS Pet Sitting, Pups on Passyunk, The Dog Enthusiast
Philly Cat Sitter Rates (as of 9/4/19)
Disclaimer: I am not endorsing any of the pet businesses listed on this page other than my own. I do not personally know any of the owners. This is simply a listing of cat sitter rates that I compiled for people needing that service.
Additional Pet Service Rates
I have an article on the rates and cost for every type of pet service. The article is called Pet Service Rates but it also includes other subjects like Philly dog parks, pet-friendly hotels, 24-hour emergency vets, and adoption locations. Check it out if you are interested in other pet services located in the city.