Pet CPR & First Aid Certification
American Red Cross

I took my Cat & Dog CPR and First Aid class on April 27th, 2009. If someone was watching my pets, I would like to know that any emergencies would be handled properly. I want to offer that same security to my clients.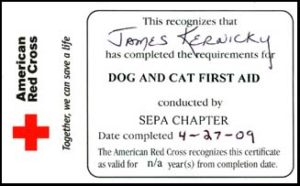 Contact the American Red Cross if you are interested in taking the combined Cat & Dog CPR and First Aid class.
Bonded & Insured

Fairmount Pet Service is Bonded and Insured through Pet Sitters Associates, LLC. It's mainly for your peace of mind: you are protected from financial loss if any accidents or damage occur while caring for your pets. As well, my dogs are always on their leash, and I make sure to keep control when approaching other dogs or people.
Since 2009 I have had to contact the insurance company for a claim only one time: for a puppy that got out of his crate and chewed the owners' shoes. That's the only time, and the crate that he was in was old and didn't close correctly. But regardless, the woman got a new pair of shoes. Basically, I know what I'm doing so no need to worry about your pets or property.