Philadelphia Dog Sitting Rates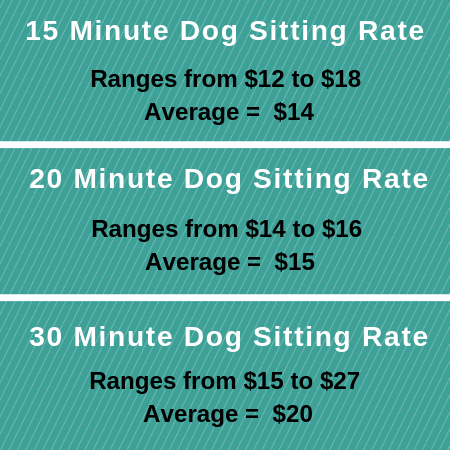 There are 23 pet service businesses based in Philadelphia that offer dog sitting and list their rates on their websites. That is out of a total of 63 pet service related websites that I have found. However, there are two things to cover when it comes to dog sitting and the rates you are looking for.
First is that there are other sites that MAY offer dog sitting though they list the service under the term "pet sitting". I have a separate upcoming article on pet sitting rates in Philadelphia that you should also read if you do not find a company in this article offering dog sitting in your area.
Secondly, there is the confusion, or misunderstanding, of pet service terms when it comes to people who own dogs. Some of the terms used interchangeably, or incorrectly, by dog owners are sitting, boarding, in-house sitting, and dog daycare. Dog walking may also be included in this list. I have a brief definition of these terms on my Services & Rates page. If you want an in-depth description of those terms, then read my article Definition of Dog Walking, Pet Sitting & Pet Boarding.
Brief Definition of Dog Sitting
This article is focused on dog sitting, meaning 3 walks per day with feedings while you are away. Your dog sitter goes to your home for a morning, afternoon and evening visit. Note: I've found the most common dog sitting requests take the form of weekends with 1, 3 & 2 visits. What that means is a Friday night visit, 3 visits on Saturday and a morning and afternoon visit on Sunday. If this sounds like what you want, then keep reading. If this is not what you want, then definitely read my posts with descriptions for the other related services.
Notes on the Dog Sitting Rates Table and Companies
Dog Sitting Rates, Fees & Costs
"Min" values: This is the minimum or standard rate for each company. It may also be a discounted rate for a certain amount of visits per week. If you see a dash under this column, then that company doesn't have a dog sitting rate for that visit time.
"Max" values: This is a higher rate that usually includes fees for night or weekend visits. If you see a dash under this column, then the "max" dog sitting rate for that company is the same as the flat rate under the min column.
Companies with the highest rates: The highest rates may be for companies based in center city where driving and parking is difficult. Everything downtown cost more. If they do not service those areas then I'd say that they should lower their rates. One reason for high rates may be because they prefer one visit time length over another. And so they make the less desirable times a higher rate. I do the same.
Additional fees: Oh boy. This is where some sites are confusing with so many exceptions that it's hard to figure out the total cost. I already mentioned nights and weekends, but holidays also fetch a high fee. There are also extra costs for a second dog or additional pets like cats.
Daily cost: If you are trying to figure out how much your total cost will be, just multiply the min rate by the # of visits per day. You'll have to also add night and weekend fees for any visits that occur at those times.
Length of Dog Sitting Visits and Service Areas
Some companies give a rate for a visit with time ranges, e.g. 15-20 minutes, or 20-40 minutes. I'm personally skeptical of that. Why don't they just tell you the rate for the EXACT length of the visit? Somehow I don't think it will be on the long end if they are busy. Keep that in mind.
Here are some of the service areas that I found for each site. If you see a "+" sign and a number, then that is the number of additional surrounding neighborhoods that the company services. If you know you live close to the service area listed, then they may also service your area. Here is a zip code map for Philadelphia if you are new to the city.
Center City: Center City Pets, Fetch Pet Care, Pup Tales
Fairmount: Fairmount Pet Service. Fairmount +1: Castellucci Pet Care. Fairmount +2: Pet Posse, Philly Bow Wow
Fishtown: Mary Pawpins
Manayunk: Manayunk Pooch Schoochers. Manayunk +2: City of Paws
NE Philly: NE Phila Pet Sitting
Northern Liberties +2: Bow Wow Meow
Rittenhouse: Rittenhound
South Philly +1: Bark Park
West Philly: Fresh Prints of West Philly
Companies that service MANY neighborhoods: Happy Tails of Philly, PhilaPets, Philly Puppy Love, Queenies Pets, Top Tails, Walk This Way, Woof n Stuff, ZDogWalkers
Unknown (I couldn't find which neighborhoods these companies service): For Paws Philly, Madeleine's Paws & Claws, MJS Pet Sitting, Pups on Passyunk
Philly Dog Sitting Rates (as of 10/21/18)
Disclaimer: I am not endorsing any of the pet businesses listed on this page other than my own. I do not personally know any of the owners. This is simply a listing of dog sitting rates that I compiled for people needing that service.
Additional Pet Service Rates
I also have individual articles on rates for dog walking, cat sitting, pet sitting, dog boarding, in-home pet sitting, doggie daycare, dog grooming, pet taxi, dog training, and pet portraits. I hope you find a great company with affordable dog sitting rates to watch your pup while you are away.
If you found this article valuable, then please share it and comment below. Both of those things will help make this page easy for others to find.
And I would be grateful as well!