Dog Walk Rates in Philadelphia, PA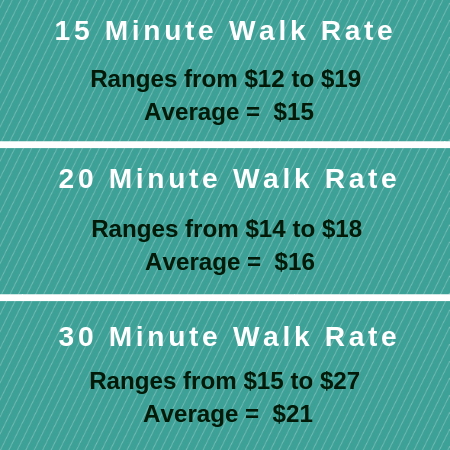 I found 62 pet service-based businesses that have websites and service various neighborhoods in Philadelphia. Of the 62, 46 offer dog walking. Below is a table of the minimum and maximum rates for the most common 15, 20, and 30-minute dog walk times. I did not include rates for longer dog walk times like 30 or 60-minute walks because they are not commonly requested walk times. If you are interested, there are a number of companies that offer longer times.
Though you have come here to find dog walking rates, you need to find out which companies service your area. To help you, I added a link to each company's page where they list their service area. But not all companies list their service area. In that case, I added a link to either their dog walking rates and services page or their home page. Also for some businesses, like mine, the service area is in their name.
Notes on the Companies Listed
This is a comprehensive list of dog walk rates for companies in Philadelphia that have websites. Disclaimer: there is one site that stands out due to bold text, and that would be mine. I did all the work compiling the data and creating the page, so I highlighted my business. Shameless plug, yes\no? Feel free to comment on that question below. But please notice that there are businesses I list which have rates that are lower than my own.
Here are some notes about the dog walk rates and companies that I found:
The table lists pet services companies offer dog walking as one of their services, possibly their only service.
I found rates for dog walks with time ranges, e.g. 15-20 or 20-40 minutes. Which time is it, 20 or 40 minutes? I don't know why they just don't list the exact time for each rate. Perhaps you can find out why.
There are 5 companies that offer dog walking but do not list the rates. As a result, they are not listed. If you happen to find their sites through an online search and call them, expect a sales pitch. Stick with what YOU want.
There are other companies that provide dog walking but either do not have a website or only have a Facebook page. I can't list them if I don't know they exist but they are out there. Try searching on Facebook or Yelp.
Notes on the "min" and "max" Columns
The table of rates is a simple min \ max $ range by dog walk times. I had to skip a lot of strange surcharges or exceptions that varied from company to company. Also, a few companies listed rates but not the length of the walk, so I had to make some assumptions. I listed their rates under the length of walk time that seems to match the amount they charge. And lastly, I excluded certain surcharges from the "max" number. The types of surcharges varied so much that it would be too confusing to list them all in a table.
The "min" rate number is either their base or standard rate or is a rate discount for a certain # of walks per week.
The "max" rate is for fewer walks per week or the rates for nights and weekends. I did not include holiday rates in the max values. If I did then the "max" rates would be even higher in some cases. Surcharges for night and weekend rates are common so they were included in the max number.
Lastly, I used a dash ( – ) under the max & min columns if a company does not have a dog walk rate for that time range. I also used a dash under the max column if they do not have a higher rate for a time range. In that case, the "min" rate is the flat rate.
Companies with the Lowest Rates
Let me make a note about the companies with the lowest rates. Most likely they have the lowest rates for one of two reasons. First would be from people who are just starting out and are trying to get clients so they match or beat everyone's rates. I did that myself when I started in 2008. The second reason would be for people who have not researched the current rates lately and therefore do not know they should probably raise their rates. I made that mistake as well until I checked all my competitors and raised my rates this past July.
Companies with the Highest Rates
Then there are the companies whose dog walk rates seem rather high. Why is that? One reason might be their walk length preferences. If one of their rates is high, and the other rate(s) competitive, then most likely the high rate is for walk lengths that they do not prefer. I personally prefer 15-minute walks, so my 30-minute walk is a little high.
Another reason might be the location they service. If all their rates are high, then I would guess that they are based in the heart of the city like Rittenhouse, Logan Square, Society Hill, etc. Places where driving and parking isn't an option and the real estate taxes are extremely high. In that case, they may service high rise buildings with many clients in each building. Everything downtown costs more and I bet that it is expected that dog walk rates would be higher as well.
If they are not based in those areas, and it is not a preference of walk times, then it would be my opinion that they are charging too much. I don't want to be unfairly critical, so if someone knows another reason why their rates would be so high then please let me know. I'll add that note to this article.
Service Areas
Here are some of the service areas that I found for each site. It's a messy bulleted list, but it was not easy getting the service areas and figuring out how to put it all in this article.
If you see a "+" sign and a number, then that is the number of additional surrounding neighborhoods that the company services. If you know you live close to the service area listed, then they may also service your area.
Center City: Fetch Pet Care
Fairmount: Fairmount Pet Service. Fairmount +1: The Pet Nanny, Andrew's Pack. Fairmount +3: Dog School
Fishtown: Mary Pawpins
Germantown: Just 4 Paws
Manayunk: Manayunk Pooch Schoochers.
NE Philly: NE Phila Pet Sitting
Northern Liberties: Pet Parent Allies. Northern Liberties +1: Breezy Walks, Four Paws Dog Walking
Rittenhouse: Rittenhound
South Philly +1: Bark Park
West Philly: Fresh Prints of West Philly, P.U.P.S. West Philly +2: Super Steps
Wissahickon: Wissahickon Walkers
Zip code 19147: Pant Dog Center
Companies that service MANY neighborhoods: Happy Tails of Philly, iheartwalkies, Little Characters, Monster Minders, PhilaPets, Philly Fit Dog, Philly Puppy Love, PHL Pets, Queenies Pets, Shawe's Paws Dog Care, South Paw, Spotwalk, Tails of Philly, Top Tails, Wag The Dog, Walk This Way, Woof n Stuff, ZDogWalkers
Unknown (I couldn't find which neighborhoods these companies service): For Paws Philly, Phila Paws & Claws, Pups on Passyunk
Philly Dog Walk Rates (as of June 28th, 2020)
Disclaimer: I am not endorsing any of the pet businesses listed on this page other than my own. I do not personally know any of the owners. This is simply a listing of dog walk rates that I compiled for people needing that service.
Companies Offering Pack Walks
There are companies that only offer, or prefer, pack walks. A pack walk involves walking multiple clients' dogs together. If you have a dog that is aggressive, easily agitated or extremely shy then this would not be a good match for you.
They will try to sell you on pack walks with a phrase like "It's great socialization for your dog." I know one thing it is great for – lining their pockets with your money. You can make a lot more money if you walk multiple dogs at the same time. If you want pack walks, then great, go for it. Otherwise, stand firm to the service YOU want and what YOU think is best for your dog. Or you may need to look elsewhere.
Additional Pet Service Rates
I have an article on the rates and costs for every type of pet service. The article is called Pet Service Rates but it also includes other subjects like Philly dog parks, pet-friendly hotels, 24-hour emergency vets, and adoption locations. Check it out if you are interested in other pet services located in the city.