How To Design Your Own Dog Walker Logo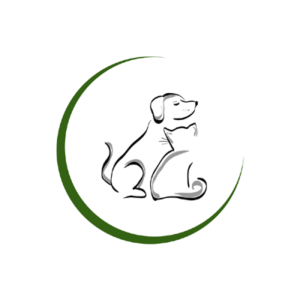 Let me start off by saying that you shouldn't spend a lot of time designing your dog walker logo. People are looking for someone to walk their dog, not for graphic design services.
I feel the same way about your website design. How often do people leave a website because of the design? Now, this is coming from a guy who needs to do some work on his website. Right now, writing articles is a higher priority than having a flashy web design, although I will be making improvements.
The one graphic design that you should spend a lot of time on is for your business cards. In my opinion, business cards are far more important than your website design or your dog walker logo. If you are interested in how to design your business cards, then check out my article Dog Walking Business Cards.
Currently, I follow 10 or so pet service bloggers and I visit all my competitor's sites. And you should see some of their logos and web pages. They definitely wouldn't win any graphic design awards. However, you have come here to learn how to design your own dog walker logo so let's get to it.
My current logo is the image at the top of this post. I will show you how I "decided" on the design and how and where I designed it. But first, let's take a look at some less than desirable logos of mine. It's as important to know what not to do as what you should do.
My first logo design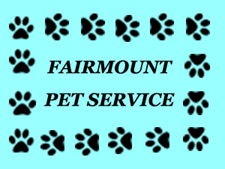 Wow! How creative and original – my company name surrounded by dog paw prints. Impressive, huh? See, this is proof that your dog walker logo is not the main way you get clients. I created this design almost ten years ago. And since then, I have had over 300 dog walking, pet sitting and boarding clients. I only recently changed my logo to what it is now.
I know this is an article about dog walking logos, but when I started out I offered pet sitting as well. That's why I chose "Pet Service" as part of my business name. As I mentioned in my first article on How To Start a Dog Walking Business, most dog walking companies offer additional pet services as do I.
At the time I created it, I had both Adobe Illustrator and Photoshop. If you are not familiar with Illustrator, it is one of the premier graphic design programs. It is also really confusing to use. I couldn't figure it out. So I used Photoshop to design my logo. They have text functions plus some simple graphics. That's where I got the dog paw prints. Don't use Photoshop to design your dog walker logo. I'll show you a much better free website.
Some recent dog walker logo designs
So I've mentioned using Canva for designing graphics in a few of my articles. They do have a premium version but I have used the free version for everything I've needed so far. I might look into the paid version if I start doing more graphics.
Since I offer dog walking, pet sitting and boarding I got the idea of using a triangle. My first version had FPS in the center (for Fairmount Pet Service) with a cat and dog silhouette. I put the services along the sides of the triangle on the outside as you see. The version here is with all the elements light gray. I was thinking that the gray would make it blend in with the page. The text, triangle, and pet graphics are all available for free from Canva.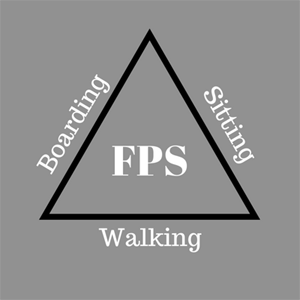 My next version was all black and white and I removed the dog and cat silhouettes. I also shortened the text to just Walking, Sitting and Boarding. And the final version I have here is one where I changed the text to white and the background to gray. I kind of like this one but neither of them are that good.
I decided to just get back to writing and work on it at a later time.
My current Pet Sitter and Dog Walker Logo
I found some videos on YouTube that mentioned a site called LogoMaker.com. The videos I watched mentioned that you can design your logo for free – it's not free anymore. Though I did get the design for my final logo from using their sample logo creation tool.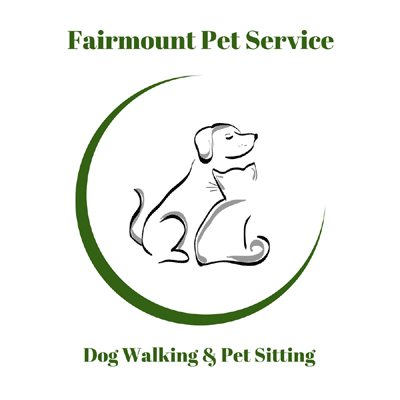 Logomaker.com
What I did was follow all the prompts starting with the Make a Logo button on the home page. It takes you through 4 steps.
Step 1: I selected Animals and Pets for the type or subject. Then I entered my company name, the tagline of Dog Walking and Pet Sitting". Finally, I clicked on Make a Logo.
Step 2: Choose a Logo Style – you can select up to 3 of 4 options. I selected Initial, Icon, and Badge.
Step 3: Choose Font Style – another 3 of 4 options. I chose Sans Serif, Serif, and Script.
Step 4: Choose Logo Layouts – once again you have three chose and I chose Icon Above, Icon Curved and Icon Left.
You are then shown 24 logos and it has 10 pages of them, but there are repeats from page to page. What I did was use Microsoft's Snipping Tool to grab a screenshot of the first four pages. There were a few on each page that I like, but one stood out. There was a silhouette of a dog and cat inside a crescent moon. Loved it.
What I did next was crop out one logo from the four pages using Photoshop. If you don't have Photoshop, no problem. This step isn't necessary. What I wanted to do was isolate my favorites, sit at a distance and just look at them from a graphic design perspective. Even though there were other ones I liked, the crescent moon logo won.
How I Created My Current Logo
So it shouldn't be a surprise that I used Canva for the final design. Here is what I did:
The Text: That was simple though the LogoMaker.com text had my business name curved around the crescent. I couldn't duplicate that so I just did regular text in the color of my website links.
The Dog and Cat Silhouette: This one took some time. I searched on Google for something like "free dog and cat silhouette". I didn't have any luck until I found the graphic that you see in the logo. And I needed a graphic without a background or a with a transparent background. I can't believe I found it on a site I already use for free photos, Pixabay.
The Crescent: I shocked myself when I figured this one out. I must have recently watched a video on sacred geometry and the vesica pisces which involves drawing one circle partially over another circle. I first added a circle in the color of my website links. Then I added a second white circle. I had to resize the white circle (slightly smaller if I recall) and I just moved it over the green circle until a green crescent was formed.
Bamn – logo done! Not bad for a dog walker who never took any graphic design courses.
Now let me say that some of the other designs I liked on the LogoMaker site would have been more difficult to reproduce or even next to impossible with the options in Canva. Lucky for me, the design that stood out for me was relatively simple.
So how does all this help you design your dog walker logo? Just do what I did:
Sign up for a free Canva account and start messing around with it to get familiar with all the options. Canva has some design tutorials on their site plus there are some really good YouTube videos on how to use all the Canva design options with a free account
Go to the LogoMaker site and follow the steps that I outlined above. Just make your own choices when you need to pick 3 of 4 styles at each step.
Use whatever tool you need to take some screenshots of the logos that they provide (sorry LogogMaker). Windows has something called Snipping Tool so if you have Windows just search for that. I'm sure Macs have something similar.
Do your best to recreate your favorite design in Canva. When you are done, you can download the logo you created as either a png or jpg file (png is best).
Now I can't help you with step 4 because I do not know what design you will try to replicate. But if you like the crescent moon thing, then you now know how to do it. If you do pick a difficult design that you can't duplicate, then simplify it and get as close as you can. The crescent moon example from LogoMaker that I liked had a two-colored crescent. I didn't know how to do that so I just created it with a single color. Do what it takes to get yourself a decent logo and then stop! Don't get hung up on design, get back to the things that actually make you money.
Note on step 4: Consider creating multiple versions of the logo for every size version you will want. You may want a small one for the top left corner of your website. That's what I want to do with my logo once I have time. Then there are larger sizes for dog walker flyers or maybe for your Homepage. And you'll need smaller sizes for business cards, favicons, etc. There is a resize option but that is only for the paid version. Or you can make smaller sizes in Photoshop if you have it or know someone who does.
Now let me show you one more design and what you can do in Canva.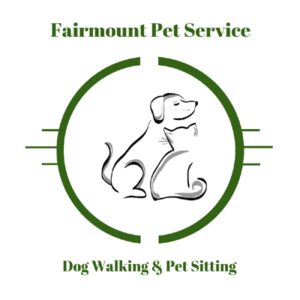 Here is a variation that I created as I was writing this article. This is an exact duplication of the two elements I saw in another logo design that I liked. Let me explain what I did:
I changed the position of the white circle and made it smaller to make a green circle line and not the crescent. Just imagine a dime on top of a quarter. You will only see the outer edge of the quarter – same idea here.
The next thing was I added two white squares, turned them into rectangles and used them to create the gaps at the top and bottom of the green circle.
Lastly, I added a line. I resized it to the length I wanted and copied it (the two long lines). I resized one of them to a smaller size and made three copies of it and that gave me the four small lines.
Those changes took me a few minutes. It's that easy. You need to get creative and use your imagination. You can do it.
I wish you well in the designing of your own dog walker logo. Add a comment below or email me if you have any questions on this article or get stuck with your design.