How I Designed My Dog Walking Business Cards
I designed my first dog walking business cards using Adobe Illustrator. That was years ago and now my version of Illustrator is so old that it won't open in Windows 10. That's alright because although it's simple, I'm happy with the design.
But I did decide to modify the design and to do that I recreated it using Canva. Canva is a free online graphic design tool that I have used for my pet sitting and dog walking business card, my pet services logo, a dog walker flyer template and for various Pinterest Rich Pins.
Design Your Dog Walking Business Card
You can't use a program to design a business card until you already have a design. And I can give you one tip right away: you need at least one graphic illustration on your card. A business card with only text is UNBELIEVABLY boring and very forgettable. Try one of these two methods to get design ideas.
First, look at any business cards you already have. Lay them all out and see which ones stand out. What you are looking for is the overall look and design. You need to see every part or section of the card as a separate element. But you also have to realize that all the elements work together for the total design. At the bottom of this post, I have some graphic design tips to help you with the basics. If you are totally new to graphic design, you may want to read that section first.
Your second approach is to search for examples of dog walking business cards online. Actually, any type of business card will do. You want to find graphic elements that stand out to you and that resonate with you. If they stand out to you, they should do the same for your potential clients. The elements to look for are illustrations, shapes, lines, and colors. Also, pay attention to font types.
Drawing the rough design on paper
After you found some graphic elements you like, draw a rectangle on a piece of paper (with a pencil and eraser) and draw your design. Add the text where you want, assuming you have decided what text you want.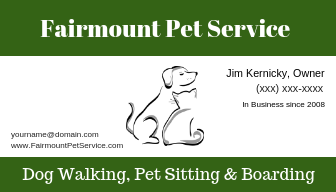 Here a couple of my cards which I designed on Canva. I have a minimalist version which is the one I prefer. The other one has more text involving my credentials. I made my dog walker logo and my dog walker flyer template public so you can take a look at them on Canva, as well read my articles on the design for those.
And I mentioned how a card with no graphics doesn't look that good. Here is my original business card design from 2009 with no graphics other than the color fields. I stuffed so much information on it that you don't need to visit my website. I cringe looking at it.
Whether or not you have found a graphic illustration, just draw a circle or square where you want it to go. That way you will see where you have room for your text. Try a few variations of your design with the text and the illustration(s) in different positions on the card until you have something you like. Also, make a note of which text will have the largest font size and which text will be smaller. And don't forget to decide on colors.
And that is your rough first draft of a design. Next, create a rough design but using Canva instead of pencil and paper.
Designing Your Dog Walking Business Card with Canva
Canva already has a lot of templates and one of the categories is Business Cards. However, you can't use it. Canva is free (though they do have a paid premium version) but you have to create an account first. I use the free version and all the designs that I created and downloaded have a resolution of 96 ppi. That's fine for web graphics, but not for something that is designed for print. So if you design a business card from one of your templates, then it won't have the proper resolution which is typically 300 ppi.
I assume the premium version of Canva will allow you to choose the resolution. Here's a workaround for the resolution problem:
At the top right of the Create a design section, click on "Use custom dimensions"
Business cards are 3.5" wide by 2" high. You want your custom dimensions to be 10.9375" wide by 6.25" high.

Trust me on this. If you are good with math, then those dimensions are the result of multiplying the 3.5 and 2.0-inch dimensions of a printed business card by 3.125, and 3.125 is simply 300 ppi divided by 96 ppi.

After you are done with your design and have downloaded the file, you need to upload the file into Photoshop or a similar program. If you don't have Photoshop or know anyone who does, then check out this article on 5 Free Web-Based Photoshop Alternatives.
What you then want to do if you are in Photoshop is go to Image > Image Size. Change the Document Size Width to 3.5 inches which should change the height to 2 inches. Then change the Resolution from 96 to 300. You now have a graphic that is 3.2 x 2.0 inches at a resolution of 300 ppi – professional printing ready
That may sound complicated but it really isn't. What the steps above do is create a large size business card which you reduce to the normal size. Just follow my steps and you will be fine. Create a custom dimension design of 10.9375 inches wide by 6.25 inch high and design your business card. Download the finished design, and then change the dimensions and resolution.
Specific Design Steps on Canva
To learn how to use Canva, you can try their design tutorials. Also, try searching on YouTube as I found some good videos on Canva there as well.
So after you created your custom dimension design you can start adding elements. Here are the steps I did when I designed my dog walking business card. If you want, you can follow my steps as if my design was yours. You can change or skip some of my steps or add your own for your design:
On the left-hand panel click Elements then Shapes.
Click the first square to add a black square to the design or canvas.
I first changed the black to a custom green color. Then I resized the square into a rectangle.
I moved the rectangle to the top of the design and resized it so it went to both the right and left edges of the design.
I copied the rectangle and moved the copy to the bottom of the design. That's it for my color elements
Next, I added the graphic of a dog and cat silhouette. To do that click on Uploads on the left panel and select your graphic.

I found my graphic for free on Pixabay. Try searching on there or any other free graphics site for the illustrations that you want.
To upload any images into Canva, just click on Uploads then "Upload your own images".

Next, resize and position your illustration to the size and position that you designed on paper. Keep in mind where you want your text to be when adding your graphic elements.
At this point, I was almost done except for the text. Click on Text in the left sidebar and select "Add Heading". I then added "Fairmount Pet Service" though I did have to resize the font.
I then moved that text box to the top green section and change the text to white and increased the font size.
I copied that text box, changed the text to "Dog Walking, Pet Sitting & Boarding". I decreased the font size and moved that text box to the bottom green section.
Finally, I added more text on either side of my graphic as you can see. I clicked on "Add a little bit of body text" three times.

First for the email and website address.
Then for my name and phone number.
And finally for the "In Business Since 2008" text box.
And if you want to know all my settings and how I made them, here they are:
My custom green hexadecimal code is 346315. For any element where you can change the color, click on the color box along the top of the design. Then click on the "+" sign to open up a color wheel and select a color that way, or enter the exact color in the Color Code # field.
The white text at the top of my card is Abril Fatface font which is the default when you click "Add heading" which I like. As I mentioned I changed that text color to white and set the size to 56. All the options for text fields will be along the top bar of the design.
The white text at the bottom of the card is the same as the top except the size is 42.
My email and website text box and the In Business Since 2008 text is Arielle font at a size of 18.
And finally, my name and phone number are in Arielle at a size of 24.
That is it. My design has 8 elements. Two color elements, five separate text elements, and one illustration. Have fun with it. Mess around with colors and fonts and fonts sizes. Try adding different shapes as well (lines can look fantastic).
There are also some decent pet illustrations that are free on Canva if you don't feel like searching online for them. I found 7 dog images, 2 dog paw prints, and 1 dog bone. If you also offer pet sitting, I found 4 cat images that I liked and a cat paw print. And I like all of them, some more so than others. You may like some that I didn't like so take a look at them for yourself. To find them just go to Elements > Free Photos and use either "dog" or "cat" in the search box. Make sure to select Illustrations and not All or Photos and look for the word "free" on the images.
This is a creative process so get in a creative mood. On a Friday or Saturday night when you have nothing to do, grab some "beverages" of your choice, play some of your favorite motivational and creative music and get artsy-fartsy.
I have a separate large monitor for my laptop which is in front of my couch. I sit on my couch with my legs on some kind of cushioned leg stool thing, my keyboard on my lap and a wireless mouse on the cushion next to me. I turn the volume up on the speakers, push play for the music and I'm off designing – I'm all alone…in the creative zone.
Bonus: Some Graphic Design Principles
First, let me say that I am not a graphic designer nor have I ever taken any design classes. I am someone who teaches myself anything I want to learn. I am also a serious amateur photographer, so much so that I built a website of my photography. I'm okay, certainly not a pro. Unfortunately, working so much as a dog walker, I haven't photographed in years.
I did a lot of searching online on various topics to help my website and blog. And one of the topics I searched for was "Graphic Design Tips and Tricks". I found some really good articles on the basics and I ended up merging them together into categories. So keep that in mind that I am not a graphic designer when reading over these graphic design tips. None of the tips are mine. They are a compilation of tips I found online from really good articles which I will list below.
I am good with patterns and grouping things together. These groupings of graphic design tips go together and it's easier to remember them as part of a group than individually. Hope they help.
8 graphic design tips that correspond to the following keywords: limitation, structure \ boundaries, consistency, and order.
Keep it simple, keep the number of fonts, colors, and shapes you use to a minimum. Use only 1-2 fonts. (Limitation)
Incorporate white \ empty space. Leave blank, white space in your design, and avoid having a cluttered design. (Limitation)
Align your objects. Aligning your graphics with grids or frames makes a design look more professional. (Order, Structure)
Aligning & ordering objects correctly makes for a clean design and eliminates the messiness or sloppiness from elements which are placed randomly. (Order, Structure)
Use lines for a sense of order, as "separators" between elements to anchor items & create the sense of overall order. Try using half lines on either side of small text. Try a whole line below headers and above sub-headers, or between images and titles. (Order, Structure)
Be consistent with your fonts and image effects (contrast, lighting, framing, etc.) Use the same look for a repeated set of designs. For example, use different tones of the same color for consistency by adjusting brightness for contrast. (Consistency)
Make sure elements are correctly aligned, the text is legible, proper contrast, and space between elements that gives design features room to breathe. (Order, Structure)
Repetition can tie together different elements and help them stay organized and more consistent. (Consistency, Order)
5 graphic design tips that correspond to the following keywords: research, planning, prepared, practical, careful, precise, skill, and craftsmanship:
Study, read, research. Researching will guarantee a more thought-out result. (Research, Prepared)
Plan your design and know what you want to accomplish before you start. (Planning)
Have a file of good design that you create or see. Have examples of visually appealing, and high quality and creative designs. (Skill, Craftsmanship)
Every element should have a reason \ purpose for being in the design. (Precision)
Use italics carefully. Italics should be used in small sentences only. (Careful, Precise)
5 graphic design tips that correspond to the following keywords: beauty or attractive appearance, balance, harmony, and others or relationships.
Start with a great color palette and beautiful colors. Make your colors visually attractive. (Beauty)
Think about who you're designing for. Know your intended audience. (Others)
Use symmetry and balance. The balance should be stable, evenly loaded on the left and right, or above and below. Try using horizontal and vertical lines for symmetry to correspond with other design elements. (Balance)
For balance and proportion, make sure the thickness of the elements match the weight of the fonts. Even spacing will offer an appearance that is professional and attractive. (Balance, Beauty)
Related elements should be grouped together to create a relationship between them. (Relationships)
5 graphic design tips that correspond to the following keywords: contrast or polarity and duality, and variety and similarity.
Use contrasting elements for grabbing Contrast is one of the most important parts of a design. Have a contrasting color background vs. the text, fonts, and graphics. Think in terms of positive & negative space in an image. (Contrast)
Have different sized text and try different colors. (Variety)
Choose a color scheme that has 1-3 primary colors with 1-3 secondary colors that contrast and complement each other. This will ensure your colors don't blend together by choosing tones that contrast against one another. (Contrast)
Use font family variants. For example, Arial, Arial Black, Arial Narrow, and Arial Rounded MT Bold. (Variety, Similarity)
Adjust the brightness of an image that has text on it, or add a partially transparent color overlay to make the text stand out. (Contrast)
Here are the graphic design articles that I think are very informative:
The 17 Graphic Design Tips All Non-Designers Need to Know
10 Most Effective Graphic Design Tips For The Beginners
25 epic graphic design tips for non-designers
Okay, that was a lot of information for a thing that only measures a few inches across. Hopefully, you don't run into any problems, but if you do add a comment below or email me. Also, I order my business cards from jakprints. I'm happy with their price, quality and delivery time. Maybe you can find cheaper cards, but I recommend them. Happy designs!