Ways to Get Your Philadelphia Dog License
So there are three ways to get a Philadelphia dog license: online, by mail or in person. The online and mail options are through Philadelphia Animal Control (ACCT Philly). The in-person option is to go to ACCT itself or to an approved dog licensing location.
Getting a Philadelphia Dog License in Person
In person is the quickest option. Take a look at the Purchase a Dog License in Person page on the Animal Control Website to see a listing of locations. They have links to 34 locations. A lot of the locations are vets, shelters or groomers. There is an interactive Google map to help you find the closest location.
Mailing Your Dog License Application
You can also choose to mail in the application but this method takes 8-12 weeks. Just download the application and fill it out completely. Include proof of rabies vaccination along with a check or money order. They will not return any paperwork that you give them, so make sure to only send copies. Here is the mailing address
Animal Care & Control Team
Attn: Dog Licensing
PO Box 46865
Philadelphia, PA 19160
How to Apply Online for Your Dog License
The online Philadelphia dog license application also takes 8-12 weeks to process. It takes that long supposedly because of the volume of application. I'd say it's the bureaucracy of government.
Just fill out the fields and upload digital copies of the required documents. You need to upload proof of rabies vaccination for each option. The Altered options also require a spay\neuter certificate. For the senior discount options, you also need to upload proof of age (driver's license e.g.) There are four options of online applications:
Annual Dog License, Altered (senior discount)
Annual Dog License, Unaltered (senior discount)
See below for information about the dog license code, costs, and further information about getting a Philadelphia dog license application.
The Philadelphia Dog License Code
Philadelphia Animal Control (ACCT Philly) has a simple paragraph on the city dog licensing code on their Philadelphia Dog License FAQ page.
Below is a summary of code 10-103 (Licensing and Rabies Vaccination). I am not a lawyer, I just read the code and paraphrased it into the following:
All dogs that are 4 months or older need to have a dog license in Philadelphia.
*You have 30 days to buy a dog license after adopting a dog 4 months or older.
You have 30 days to buy a dog license after moving into Philadelphia.
Senior citizens (65 or older) get a 50% discount towards licensing their dog(s).
Dog license fees for guide dogs (or service animals) are waived (no charge).
Your dog must have proof of vaccination for rabies to receive a dog license.
A dog must have the license tag on its collar at all times.
*I was not required to buy a Philadelphia dog license when I adopted my dog in 2010 and he was approximately 1-1/2 years old. That may not be the case now.
See the last sentence in paragraph 7 of section 10-103. It mentions that no dog shall be released unless the person adopting the dog submits "a license application and application fee." That language sounds stern.
I think rescues and shelters are more concerned with the adoption than the license application. So you may be able to adopt a dog without the application and fee as I did. But things may have changed since then, so don't quote me on that. Eventual you have to get one.
The Paperwork You Need & How Much it Costs
You must have a certificate of vaccination for rabies from a veterinarian. You won't get a license without the certificate. The costs of a Philadelphia dog license are:
License for an altered Dogs (spayed \ neutered) is $16.
Unaltered Dogs fee is $40.
Senior Pet Owners (65 years+) fee is a 50% discount ($8 altered, $20 unaltered).
Service Dogs: Free
Based on the fees, you will also need proof of spay\neuter for the altered dog license fee, and proof of age for the senior discount.
Reasons to Have a License for Your Dog
It is mandatory to have a license for your dog in Philadelphia, and I assume for most cities. So that's the first reason.
But besides avoiding fines for not having a license, the main reason is if you lose your dog. Though I'm not sure how people "lose" their dog.
I sometimes lose, or misplace, my keys or cell phone, but I've never lost my dog. Though my dog whimpers if he doesn't know where I am (love that boy).
If your dog gets away from you for whatever reason, then having a dog license tag on his collar will help reunite you with him. Philadelphia Animal Control can use their license database to contact you.
I often see posts about a stray dog being spotted, sometimes with a collar. People in my neighborhood often hold onto the dog and contact ACCT or local shelters. The owner and dog are often reunited without involving animal control.
If you do "lose" your dog, it's a great idea to add another tag on his collar that has your phone number. Take a look at my article on 17 tips for first-time dog owners for additional safeguards.
Lifetime Dog License in Philadelphia
You used to be able to pay a higher fee and get a permanent license for the life of your dog, but I think that is no longer possible. Here is paragraph 2 under code 10-103: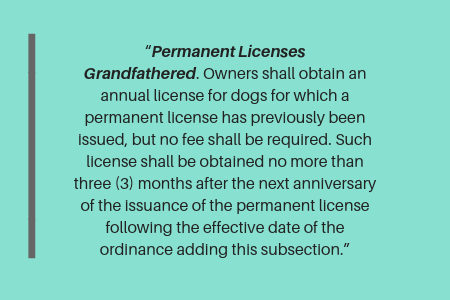 Whew! That is a tough paragraph to read. But it sounds like permanent licenses are available.
However, I applied for a permanent license a year after I adopted my dog because I heard that permanent licenses were no longer going to be available. I think that was around 2011 and I wasn't told about going back a year later to get the permanent license. Thanks for not sharing!
Either permanent dog licenses are available again, section 10-103 paragraph 2 is wrong, or I misunderstand that goofy paragraph. Just ask if lifetime dog licenses are still available when you apply for your dog's license. Or comment below if you are fluent in legalize.
I don't think it's available anymore.
Lost Tags and Tag Renewals
You can get a replacement tag if you lose the one given to you when your application was approved. Make sure you write down the license tag # and the date it was issued.
Provide that information along with your name, address, and your dog's name. A replacement tag costs $2. Just contact them if you need a replacement tag.
The Philadelphia dog license is valid for one year. You will need to apply for a new tag, and once again, provide proof of vaccination.
Vaccinate your dog and don't lose him. But if you do lose him, having a Philadelphia dog license helps ensure you get him back if he does get away from you.